Home Alone
Nuttjob Records 2011
Songs
_1. Clear 1:59
_2. The Calling 4:06
_3. Dawn 5:44
_4. Time 5:59
_5. Going Home 5:03
_6. Sludge 5:07
_7. Little Big Man 5:20
_8. Chicks Dig It! 4:30
_9. Drill Baby Drill 4:46
10. Strawberry Fields Forever 6:09
Total time
Musicians
All songs written, played, produced and mixed at home....alone...by Joe Caro on a Macbook Pro using Logic 9 and Guitar Rig. With the exception of Strawberry Fields Forever" (Lennon-McCartney) Sony/ATV BMI).
Ricky Peterson Hammond B3, tracks 2 and 4 (recorded at The Workhouse/Tritone Studios Jim Ryberg engineer).
Steve Ferrone drums, track 4 (Eric Thorngren engineer).
Shawn Pelton drums, tracks 6 and 9.
Anton Fig drums, track 2.
Chris Palmaro orchestration, track 1.
Will Lee bass, tracks 2, 4, 9 and 10 (Glen Ianaro engineer).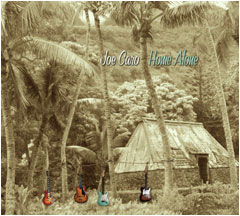 Produced by Joe Caro
Mastered by Jay Messina
All songs NewToe Music ASCAP.
Download Now at Itunes
Buy Now at Amazon
Buy Now at CDBaby.com